Meet Nick Saul, Victoria's New Chancellor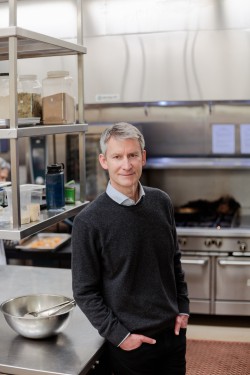 Nick Saul, c.m., Vic 9T0, an internationally renowned food and social justice activist, has been elected Victoria University's 15th chancellor, Board of Regents Chair Lisa Khoo Vic 8T9 announced in February. Saul succeeds Carole (Goss) Taylor, O.C., Vic 6T7, Hon. 1T2, who has been chancellor since 2017.
A recipient of the Jane Jacobs Award and an honorary Doctor of Laws (Ryerson University), Saul is the co-founder and CEO of Community Food Centres Canada. For more than 30 years, he has worked in partnership with low-income communities, ensuring that people live with dignity, health and equity.
"Nick is an inspiring example for Victoria students, as well as all Canadians," said Khoo. "He shows us the power of community-based initiatives in making the world a better place."
Reacting to the appointment, Saul said he was surprised he was asked, but deeply honoured to return to Victoria University in this leadership capacity. "This is an incredible opportunity," Saul says.
He is particularly interested in how he can contribute to student life, wellness and well-being at both Victoria and Emmanuel College. "We're hearing stories about how students are more isolated and lonely than ever. I found community in basketball and at Robarts. Community, generosity and kindness have always been central in my life. How can I support a sense of community at Victoria? How can I support students so they feel valued and heard? Everyone has something to contribute."
The Chancellor Search Committee included members of the Board of Regents, faculty, senior administration and students. After a six-month search, committee members selected Saul and described him as a clear choice.
"There was unanimous enthusiasm for Nick Saul's nomination," says President William Robins. "That enthusiasm just grew the more we learned about his work, his character and his leadership. He exemplifies the ethos of both colleges with his commitment to social justice and a stronger more equitable Canada."