Victoria College 2022–2023 Admission Scholarship Recipients
Every October, Victoria University's community gathers to celebrate Charter Day, a commemoration of the granting of Victoria's Royal Charter by King William IV on October 12, 1836. The Charter Day ceremonies, which happen at this time every year, are a special moment for Victoria University to celebrate its founding as a university. They are also a chance to present exceptional students with a wide assortment of scholarships and awards, including the Admission Scholarships. These scholarships are made possible thanks to the generosity of alumni and friends, and it is through this community that Vic is able to offer one of the best awards and bursary programs in the country. Read more about some of this year's scholarship and award recipients: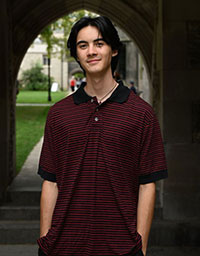 William Clayton - Clifton Graham Roberts Admission Award
Everything about William Clayton screams music! He received the honour award for his jazz drumming combo at the 2022 MusicFest Canada. His goal at Vic is to make a positive impact on the music scene while being able to jam out with his talented bandmates. For his outstanding scholastic achievement and extracurricular involvement, William is the recipient of the Clifton Graham Roberts Admission Award. "My mother graduated from Vic so receiving the award makes it even more meaningful," said William. The award also gave the computer science student confidence that Vic is here to help him achieve his academic goals.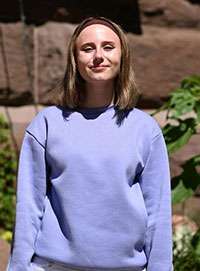 Tristan Gosselin - Victoria University Opportunity Admission Award
Tristan Gosselin, the recipient of the Victoria University Opportunity Admission Award, is the first Métis woman in her family to attend a post-secondary institution. She is "immensely grateful" for the award. As a Métis person, Tristan wants to raise awareness at Vic about Indigenous students' inclusivity in academic spaces. Tristan is excited to be in the Vic One Gooch stream. She believes the small class sizes in the program will help her connect with peers and professors.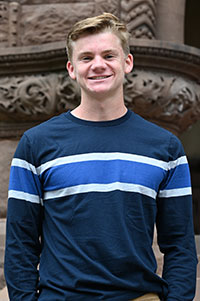 Samuel Thomas Henke - Regents Performance Award
Samuel Thomas Henke is the recipient of the Regents Performance Award for academic excellence and athletic achievements. As part of the Varsity Blues football team, Samuel wants to make a difference on the field and stand out in the classroom. He is grateful for the award and excited to meet new friends at Vic.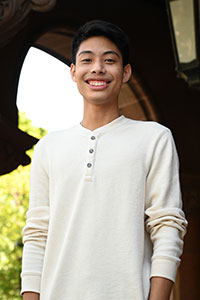 Matthew Louis Inkim - Regents Admission Scholarship
Matthew Louis Inkim is a master of chess and a master of steelpan as well. He plans to diversify the musical scene at Vic while finding new chess opponents here. The Trinidadian is the recipient of the Regents Admission Scholarship for being an outstanding newly admitted student to Vic. He felt inspired to continue his passion and "put [his] best foot forward in all endeavours." Matthew believes Victoria College will let him grow and become an all-rounded person.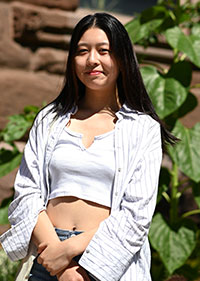 Sherry Jiang - Edward L Baker Darius Dunham Award
If you're looking for a cat, Sherry Jiang might have one for you! Sherry spent the last two years fostering eight cats and sending them off to their new homes. The commerce first-year is the recipient of this year's Edward L Baker Darius Dunham Award. She is very grateful and encouraged to take every opportunity Vic offers. Sherry hopes to become a positive influence on her peers in the next four years, supporting them in every way.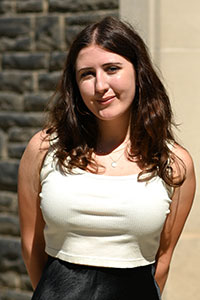 Lilly Patrick - Anna O'Reilly Award
For Lilly Patrick, receiving the Anna O'Reilly Award allows her to go to university "without stress, just excitement!" A real self-starter, Lilly excelled in high school and took time during the pandemic to teach herself German - no small feat! She did so well that she was permitted to start her formal university studies at a second-year level. In addition to German, Lilly is studying social sciences while at Vic. She looks forward to meeting many new people. "It is a goal of mine to make the best impression I can," said Lilly.
Armiti Zarbahsh - Clifton Graham Roberts Admission Award
Vic's beautiful campus was one of Armiti Zarbahsh's earliest memories of Toronto after moving from Iran. The recipient of the Clifton Graham Roberts Admission Award is enthusiastic to meet the close-knit Vic community. Armiti ran eight clubs in high school and taught English in an Iranian and Afghan refugee integration program. She is taking life science at U of T and is in the Vic One Pearson stream. "I am thrilled to learn, be a part of a new community and make new connections," said Armiti.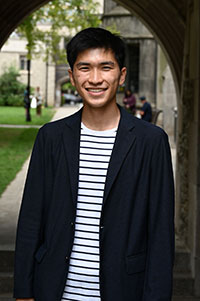 Tatsuya Shiokawa - The Regents Admission Scholarship
Tatsuya Shiokawa knows how to play his cards right! A second-place winner in Japan's Haiku-Karuta National Competition, Tatsuya is a master of this Japanese card game. He was awarded The Regents Admission Scholarship for being an outstanding newly admitted student to Vic. He is excited to now be studying in Canada and believes the scholarship will enrich his learning journey at Vic. Tatsuya plans to pursue a data scientist or statistical science specialist program. He hopes to become a bridge to help connect Japanese culture to students at Vic. And if you ever want your name written in brush calligraphy, he is also an expert at that!