Vic's 2022 Student Leadership Award Recipients
Whether their desire to make a positive impact was driven by the adversity they faced, outstanding mentorship or a need to improve their community, Victoria College students receiving this year's University of Toronto Student Leadership Awards exemplify outstanding service and commitment to the life of their College and the larger University.
All 13 Vic students receiving this year's award have embraced their power to make a difference in others' lives. They have served as mentors and dons, edited and published journals, worked to advance equity and accessibility for their peers, and much more. Congratulations to all recipients!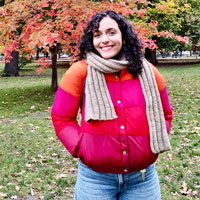 Having struggled financially, personally and spiritually, Hannah Saleh Ali Ahamedi "wanted to ensure that students facing similar issues would have an easier time seeking supports and resources." Recognizing that a safe place to live is necessary for students to thrive academically and socially, she joined the Campus Cooperative Residence Inc., which provides affordable housing to nearly 250 students. She served as the equity commission co-chair on Victoria University Students' Administrative Council (VUSAC) and as chair of the Student Projects Fund. She works as a researcher at the Reach Alliance, and through the Global Ideas Institute, she provides mentorship to high school students. One of her proudest achievements is acting as a panel speaker at Vic's annual conference on mental health, Minding Our Minds, in 2020.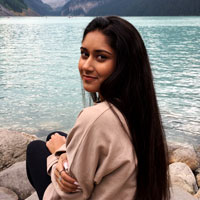 Through community outreach, health promotion workshops and research symposia, Tabina Ahmed vice-president of U of T's Women's Health Collective, promotes women's health and well-being locally and globally. She serves as co-research director for its eHealth Network to raise awareness of digital health care to foster a community of empowered and healthy women. It's important to Ahmed that everyone sees themselves represented in positions of leadership and so she focused on making first-year students feel welcomed and included at Vic—even during the height of the pandemic when many events went virtual. She has served as VUSAC's vice-president, internal, and social media director for U of T's Nanomedicine Research Society.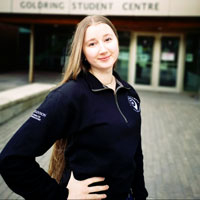 Rheannon Demeter led the design and implementation of over 30 unique programs and services for her peers including grocery subsidies to reduce food insecurity and free care packages. She also provided professional development support for her team members. "I count myself fortunate to have been able to contribute to the University through leadership roles. I plan to continue to support my peers as an ally and by lending a helping hand to all who may need it," she says. As VUSAC's commuter commissioner, Demeter represented over 3,000 commuter students and fostered student engagement through significant organizational changes to make student voices heard.
Despite a childhood aversion to geese, Emily Hurmizi worked as co-editor-in-chief of the Victoria College journal Goose: An Annual Review of Short Fiction, which promotes fiction written by U of T students. Hurmizi uses storytelling to build community and enjoys supporting peers through creativity. She is also recognized for her contribution to student life having served as co-chair of the Hart House Student Literary and Library Committee.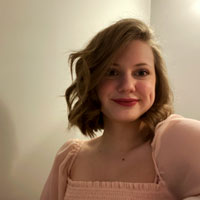 As an upper-year student, Ashley Hilton ensured that incoming students felt represented and part of a vibrant community—especially as their introduction to university life was largely virtual. Hilton also served as a mentor through the Ethics, Society and Law Students' Association (ES&L), and with the anthropology program. As vice-president academic of ES&L, Hilton implemented an annual student-led research conference. As its president, she founded an equity representative to ensure that equity concerns were widely addressed across the program.
Since Kimia Karachi set foot on Vic's campus, she has been an active participant in both in-person and virtual engagement through the Victoria College Drama Society and its productions of Bag Babies and When All This Is Over. She also worked with U of T's Drama Coalition, Festival of Dance, the Hart House Student Theatre Committee, and the Mental Health Association. Like many of her peers, finding her place within a large university like U of T provided her with a sense of belonging and she hopes that through theatre, she can inspire others to do the same.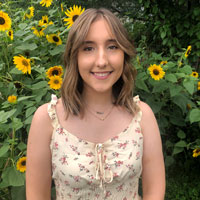 "Vic's transition mentor program and the commuter dons helped to give me a sense of community during isolating and stressful times in my first year," says Alexandra Kurtesi. "They made me want to be that support system for others and improve their university experience through mentorship, programming, and outreach." Kurtesi served as a transition mentor to help students navigate university life. As part of the Orientation Executive, she led events such as commuter orientation. As a VUSAC counsellor, she has run programming for the commuter, academic and mental wellness commissions in addition to serving as a transition commuter commissioner. In her final year, she worked as a commuter don and as inventory co-manager at Caffiends, Vic's student-run, fair-trade café.
Whether working as a commuter don or an orientation leader, Hailey Marleau has found numerous ways to give back to the College. She has served as president and director of sponsorship for Big Spoon Lil Spoon, a campus club that provides affordable cooking classes for children with disabilities, volunteered with the Peace, Conflict and Justice Society as communications director, and worked as an editor for the Mindful Journal of Ethics. A rewarding co-curricular experience has been working as a maternal health researcher at Reach Alliance, which recruits student leaders across the world's best universities to investigate inventive, local solutions to pressing global challenges.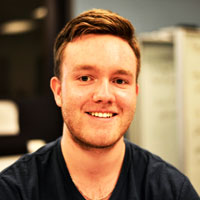 A willingness to ask tough questions coupled with a desire to make global change inspired Konrad Samsel to co-lead a U of T Entrepreneurship Hatchery team that explored the possibilities of health-IT in chronic disease management. Since then, he has led an independent research project at U of T's School of Cities examining the impacts of patient-reported measures on healthcare equity, patient-centeredness and sustainability. Driven by curiosity and with an aim to inspire a sense of wonder in his peers, Samsel has also served as a student representative, volunteered at the Cat's Eye Student Lounge, and supported first-year students in their transition to university life as part of Vic's Transition Mentor Program. In his current volunteer role at the Institute for Healthcare Improvement, he organizes quality-improvement learning opportunities to help U of T students improve patient care and population health.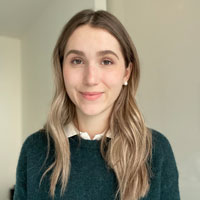 An advocate for mental health, Emily Saso combined her personal experiences of stress and anxiety with design skills to help others and launched Journal for Mental Health: a free, digital journaling resource. By sharing her own story of resilience and collaborating with U of T's Health & Wellness, Saso's journal templates are free and publicly available to all. The templates include different approaches to journaling, so pages can be downloaded to suit one's mood, track anxiety triggers or provide a place to jot down feelings and thoughts to make recall at appointments easier.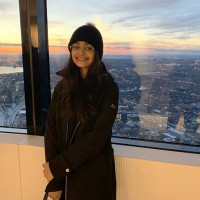 As an international student, Aashna Shah was grateful for the support she had from international mentors at Vic when she first arrived on campus. Building on the success of her own experience, Shah has since served as a mentor to over 100 international students. This past summer, she supported a similarly sized cohort and offered virtual support to students living overseas due to the pandemic. Having never occupied a leadership post prior to Vic, she wasn't sure she had the necessary skills: "I was always passionate about supporting other students, so I decided to try out being a peer mentor in my first year; I worked one-on-one with a student to support them with their mental health, and have not looked back since."
Congratulations to this year's UTSLA recipients. The UTSLAs continue the Cressy Award legacy, which celebrates leadership and service. During the award's 25-year history, it has celebrated the exemplary contributions of more than 4,000 students whose commitments have had a lasting impact on their peers and the university. Do you know someone who is deserving of recognition? The 2023 award nomination period will re-open in September 2022.