Mizna Dada: The Larry Davies Award for Public and Community Service
Learning of the success of third-year Vic student, Mizna Dada, and others like her, makes Larry Davies beam with satisfaction and joy.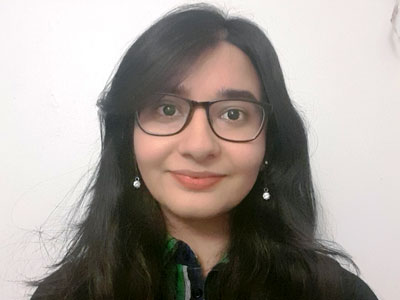 Dada is one of five recipients this year of the Larry Davies Award for Public and Community Service in Canada, established upon his retirement in 2010 to encourage Victoria College students to become involved in projects that provide direct benefits to individuals or communities in Canada.
Dada has volunteered with the Afghan Women's Organization (AWO), running its Homework Help Program. Due to ongoing restrictions and the changes imposed by the COVID-19 pandemic, she noticed that many students were finding the transition to virtual learning difficult compounded by having fewer academic resources available. She took it upon herself to modify and create additional online accommodations for students. After establishing a collaborative working and digital space where students and tutors could connect, she was appointed the program's supervisor and head organizer.
Since then, she has continued to run the program and now has more time to pay special attention to tutor/student matching with special consideration given to individual students' needs and tutors' strengths. She still spends most of her weekends coordinating and overseeing learning sessions to ensure the operation runs smoothly, and to assist in program facilitation when needed. "I keep implementing changes where necessary to improve the program overall, such as creating feedback forms, an automatic matching program, and bettering the method of communication between tutors and students," she says.
Of course, her volunteerism is in addition to her full course load majoring in cognitive science with a double minor in psychology and computer science. Previously, she worked part-time and was able to cover her expenses, but since the pandemic she has been unable to find casual work.
"The funds from the Davies award gave me the chance to take some time off from work and allowed me to further develop my project and to help others. Being able to run my own program also allowed me the opportunity to learn many new skills as well, such as project management, acting as a liaison between stakeholders and improving my time-management and organizational skills. I am thrilled that this project was able to help students with their academics and improved our tutor recruitment."
She has continued to volunteer with the AWO and works to develop and improve the Homework Help Program to ensure its success. Her future goal is to pursue a career in software development where she can continue to design and tailor user-friendly software to the specific needs of clientele. To this end, she has taken up another extracurricular activity: the Game Design and Development Club at U of T. There, she works as part of a team to develop a game and contribute to its programming and storyboarding plan.
"Mizna created a timely and worthwhile project, and I could not be more delighted by what she has accomplished," says Davies. "And I'm so pleased that there were four other equally impressive recipients of the Larry Davies Award this year who took on challenging projects and achieved similar success."
Asked why he wished to focus his award on public and community service in Canada, Davies says, "It occurred to me that while many young people seek out funding opportunities each year to assist in worthwhile humanitarian projects around the world, there are so many unmet humanitarian needs right here in Canada.
"I can understand why students often want the experience and adventure of traveling abroad to help less fortunate societies, but I'm also aware that considerably more funding exists to support international projects. I thought I might be able to help bridge that gap, if in just a small way, for students who are determined to assist communities in Canada, but who lack the resources to achieve their goals."
The Larry Davies Award for Public and Community Service in Canada was established in 2010 in recognition of Davies' 27 years of service to Vic. He is grateful for Vic's matching funds and for the many donations the University received from alumni, faculty, and friends in his honour.
If you are in establishing a named scholarship, please contact Louise Yearwood, Executive Director of Alumni Affairs & Advancement, at 416-585-4501 or louise.yearwood@utoronto.ca.