Northrop Frye Centre Lecture 2022
Beyond Apocalypse: Climate Change and Urban Narrative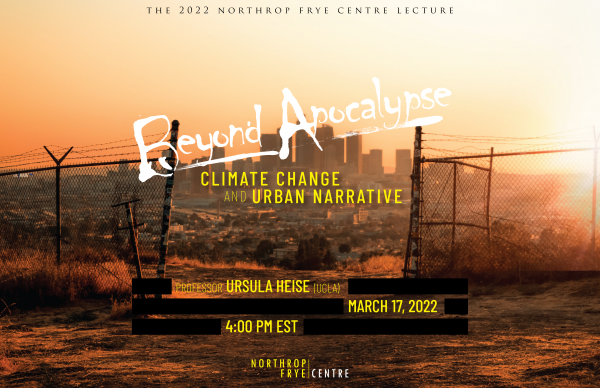 On March 17, 2022, the Northrop Frye Centre (NFC) will be hosting its eighth annual Northrop Frye Centre Lecture, "Beyond Apocalypse: Climate Change and Urban Narrative" with Professor Ursula K. Heise (UCLA).
"As we confront the challenges of the climate crisis, it is important to remember that every aspect of our lives – and our work – is at stake. Professor Heise's research on narrative and the environment is both timely and urgent" says Professor Bob Davidson, director of the NFC.
Beyond Apocalypse… centers on the topic of climate change and narrative form. Beginning with a consideration of the Anthropocene and how it has become shorthand for climate change, Professor Heise will then consider the challenges of representing the climate emergency in conventional, realist narrative, and argue for speculative narrative's capacity to measure up to the challenge of global heating. Special attention will be given to Nguyễn-Võ Nghiêm-Minh's 2014 film Nước 2030 [Water 2030] and Kim Stanley Robinson's New York 2140 from 2017.
Ursula K. Heise is Chair of the Department of English at UCLA. She holds the Marcia H. Howard Term Chair in Literary Studies and serves as Interim Director of the Lab for Environmental Narrative Strategies (LENS) at the Institute of the Environment and Sustainability at UCLA. She is a 2011 Guggenheim Fellow and former President of ASLE (Association for the Study of Literature and the Environment). Her research and teaching focus on contemporary literature and the environmental humanities; environmental literature, arts, and cultures in the Americas, Western Europe, and Japan; literature and science; science fiction; and narrative theory.
"We very much look forward to seeing members of the Vic and U of T communities on the 17th for what promises to be an engaging and illuminating talk," says Davidson.