Liz Howard Appointed Shaftesbury Creative Writer-in-Residence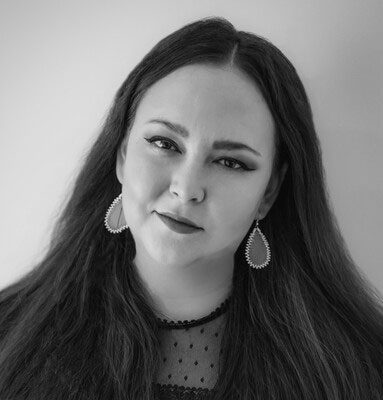 Liz Howard, whose poems were described as being "filled with energy and magic" and "scintillating" by the jury of the Griffin Poetry Prize, has been appointed the Shaftesbury Creative Writer-in-Residence at Victoria College for 2022-2023. She will play a key role in teaching, mentoring and inspiring students in the Creative Expression and Society program and the Norman Jewison Stream of the Vic One program, and help to foster creative citizenship among the Victoria College community.
Born and raised on Treaty 9 territory in Northern Ontario, Howard writes poetry that is sonically rich and thematically ambitious, interrogating scientific, Indigenous, and poetic ways of knowing in a rich mélange of intelligence, curiosity, and vulnerability.
Her first book, Infinite Citizen of the Shaking Tent, won the Griffin Poetry Prize in 2016, the first time the prize was awarded to a debut collection. Her latest collection, Letters in a Bruised Cosmos, was published last year by McClelland & Stewart.
"On behalf of the Vic academic community, we are thrilled to be welcoming Liz to Vic. Her awareness of the current literary landscape, and the correspondences between various kinds of discourse communities, will bring an important voice to the Victoria College community," said Prof. Adam Sol, who leads the Creative Expression and Society program at Victoria College.
Ms. Howard earned her BSc in psychology at the University of Toronto, and an MFA in Creative Writing at the University of Guelph. She brings a wealth of teaching experience in diverse settings, having served as an adjunct faculty member in the English Department's MA in Creative Writing program, as a sessional lecturer in English at UTM, Writer-in-Residence for the University of Calgary and Douglas College, and serving as one of the Poetry Editors for Buckrider Books.
Ms. Howard is the second poet to hold the prestigious Shaftesbury Creative Writer-in-Residence role. Thanks to a generous gift by Shaftesbury, a Toronto-based entertainment company founded by Vic alumna Christina Jennings, C.M. (VIC 7T4), the inaugural Shaftesbury Creative Writer-in-Residence was launched with poet Canisia Lubrin in 2021/2022.
"Learning from exceptional writers and thinkers at Vic had such a significant impact on me as a student, and what I have been able to achieve professionally. I am extremely pleased that the tradition of attracting such incredibly talented writers as Liz Howard continues for current students," said Christina Jennings, Founder, Chairman, and President of Shaftesbury, which produces hit shows including Murdoch Mysteries, Hudson and Rex, and Departure.