Graduating Award Recipient: Shahd Fulath Khan Vic 2T1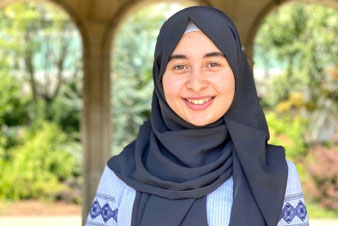 As a bright student with varied interests and a desire to be involved in extra-curriculuars, Shahd Fulath Khan Vic 2T1 was looking for a college that valued student achievement both within and beyond the classroom: "I needed an environment that supported students who are dedicated to co-curricular learning and involvement just as much as they are to their studies."
"I am truly grateful I was at Vic for my undergrad. The one thing I loved most is the Registrar and Advising office who had my back through difficult times. I also enjoyed the award celebrations each year that honoured Vic students' achievements. We wore black academic gowns and watched as students were congratulated by the Vic staff. Also, the academic advising, career support, and writing centre were valuable resources for me throughout."
But as for the moments that made her "heart happy," Fulath Khan treasures the more random moments such as participating in the one-minute scream in King's College Circle, eating lunch in Sidney Smith café with friends, and meeting interesting guest speakers on campus.
When it came to choosing a major, however, the process felt stressful. Fortunately, the flexibility of her degree program allowed her to participate in classes from both the sciences as well as the humanities disciplines.
It was a lecture on cognitive psychology with Professor Christine Burton that captured Faulath Khan's attention and inspired her to pursue neuroscience. "I fell in love with the field. Although my motivation to study during the summer was very low, I still walked out of every class fascinated with what I learned. I was especially drawn to the idea of how our brain is prone to errors—in our attention, our memory, our decision-making, and our problem-solving processes. Cognitive psychology was an important stepping stone in my education, and it inspired me to dedicate my fourth-year research project to the study of indecisiveness and cognitive biases with Professor John Vervaeke."
Her well-rounded degree was enhanced by several undergraduate research opportunities. "In my first year, I was invited to attend a leadership conference in Pittsburgh, PA, where I met student leaders from all over the world at the Hesselbein Leadership Summit. I also visited Ottawa as part of the Women in House trip, shadowing MPs and sitting in on parliament meetings, and Kingston for a neuroscience conference at Queen's University."
Since travelling had always been a dream, Fulath Khan set her sights on an international experience after her second year. "After completing the Munk One program in first year with Professors Teresa Kramarz and Joe Wong, I had the tools I needed to draft and present a coherent research proposal. In my second year, I was accepted into the Dr. David Chu Program to study pro-environmental behaviours in Surabaya, Indonesia. This trip was very challenging as a solo researcher, but I learned so much on Indonesian's dedication to environmental action."
In her third year, she and a classmate applied and won the Insights Through Asia Challenge. But their plans had to change once COVID-19 hit. Ever adaptable, the two decided to use video platforms in lieu of in-person interviews with Uyghur immigrants to learn about their experiences and challenges with their mental health. "I loved this experience so much, despite it being under unusual circumstances. It reminded me of the often forgotten values in research, such as promoting empathy and understanding."
Promoting mental health and compassion is important to Fulath Khan. She found her "home away from home" in Vic's Women's Circle. The group met weekly in Emmanuel College's prayer room to talk about spirituality, Islam and resilience. They also held yoga classes, hosted guest speakers, writing workshops and annual winter retreats. "The support from Victoria College and the Muslim chaplaincy was beyond overwhelming, and I am truly grateful for their ongoing enthusiasm."
The Muslim Students' Association was also a highlight. Serving as secretary of the team provided her with an opportunity to strengthen her leadership and organizational skills. "We worked on various projects that supported the needs of Muslim students such as opening new multi-faith spaces and collaborating with different student groups." The team delivered over 50 events and programs throughout the year including charity events, human rights panels and Islam awareness week booths." A particular highlight for Fulath Khan was planning an interfaith discussion night with Power to Change, which received the 2019 Program of the Year award.
Ultimately, Fulath Khan wants to help others and is interested in approaching therapy through a culturally informed lens for minoritized students. "When I sought counselling as a student, I struggled to find a therapist who truly understood my faith and my Muslim identity." To begin, she will start her Master of Science degree in the Couple and Family Therapy program at the University of Guelph.
"I hope I continue in research, exploring how psychotherapy can help the average person achieve their goals. When I begin practising as a therapist, I hope to help groups that I served as an undergraduate researcher, particularly Syrian refugees and Uyghur immigrants in Canada. At some point, I hope that I can return to the academic environment as a teacher or instructor, where I can help inspire students along their learning journey."
Shahd Fulath Khan Vic 2T1 graduates with a psychology specialist and neuroscience major and is the recipient of the Ethel Treble and F. Louis Barber Travelling Scholarship from Victoria College.