Education Can Save the World: Celebrating the Vari Scholarships
Like her late husband, George, Helen Vari believes that education is transformative and can change the world.
Dr. George Vari always credited his education with achieving such a successful life in Canada. The Vari Scholarships honour his legacy and the couple's commitment to the power of education as a life-changing force. George and Helen Vari arrived in Canada after the 1956 Hungarian Revolution. George first worked as a civil engineer and later became a highly successful real estate developer.
Through the George and Helen Vari Foundation, the Varis have helped countless students and supported many educational institutions, programs and initiatives across Canada. For over 20 years, the Vari Scholarships have been life changing for students at Victoria University. Valued at up to $50,000 ($10,000 per year for three years of undergraduate study and two years in a program leading to the teacher certification), the scholarships represent the largest single award available to teacher candidates.
Each academic year there is an annual luncheon for the Vari Scholars, held jointly between Vic and OISE. The luncheon is an opportunity to honour the achievements of the scholarship winners and a chance for them to meet and speak with Dr. Helen Vari, who attends each year. At the luncheon, a student representative from both Vic and OISE is asked to speak on behalf of their fellow scholarship winners about the award and what it means to them. Unfortunately, due to the COVID-19 pandemic, the luncheon was cancelled in 2020-21; however it is expected to resume some time in the 2021-22 academic year.
Victoria University is excited to announce this year's three new Vari Scholarship winners. The scholarships are offered to students entering second year who plan to pursue a career in teaching at the primary or secondary level in Ontario. This year, there are three recipients: Jenna Borden Vic 2T4, Hannah Chown Vic 2T5 and David Zolya Vic 2T4.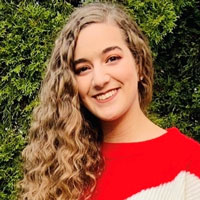 Jenna Borden After completing her undergraduate degree, Jenna Borden hopes to complete her master's of teaching degree and eventually become a high school math and drama teacher. Currently entering her second year, Borden is pursuing a specialist in mathematics and its applications with a double minor in education and society, and drama.
Borden currently works four jobs so receiving the award was both exciting and offers her considerable relief: "Winning the Vari Scholarship means I can put more time towards my actual studies, my social life, and family time while still being able to afford school. I am no longer so stressed about money, which is a welcome relief. I could not be more thankful."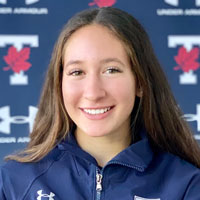 Hannah Chown hopes to have a future career teaching English and drama at the secondary-school level. Her goal "is to display the practicality of English and performance skills in every learner's pursuits, with a particular focus on upper-level high school students who are preparing for post-secondary life."
"The Vari Scholarship is certainly life changing," she says. "It has opened up possibilities for me to pursue my passion for pedagogy, both as an educator and as a life-long learner. This award has broken down barriers, and granted me the ability to fulfill my life-long dream of studying abroad for a semester. I extend my deepest gratitude to the George and Helen Vari Foundation for believing in me and helping me to get closer to my goals. I am committed to demonstrating exceptional leadership and upholding myself to the highest standard as a recipient of the Vari Scholarship. Currently, Chown is pursuing a double major in English and dramatic performance in addition to being a Varsity athlete as a defender and winger on the women's soccer team.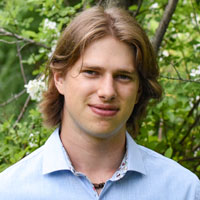 David Zolya is in his second year of a bachelor's degree in anthropology with a minor in education and environmental biology. Alongside a career in teaching, he is looking forward to pursuing research opportunities at the graduate level with his eye on a master's degree from OISE in child study. "Receiving the Vari Scholarship was truly thrilling. This funding will transform my university experience by allowing me more freedom to pursue my growing interests and removing financial stress," he says.