$2.5 million Increase in Financial Aid for Under-Represented Students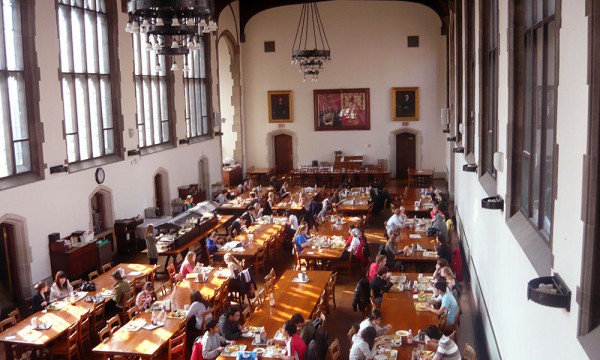 Toronto, Ontario...Thursday, June 23, 2022. Students from under-represented or at-risk groups entering Victoria College in the University of Toronto will have more opportunities to access financial support through the newly created Robins Access Awards Program.

The Program, which comprises a suite of innovative Opportunity Awards, will provide over $300,000 every year to Victoria College students. Preference will be given to students from under-represented and at-risk groups with demonstrated financial need including Black, Indigenous and First-Generation Canadian students.

Recipients of Opportunity Awards will be able to live in residence on Victoria University's historic campus during their first year, becoming fully immersed in student life, and will continue to be supported with $5,000 annually in subsequent years of study.

The Robins Access Awards Program has been established to honour the work of Victoria University's 13th President and Vice-Chancellor, William Robins, who has been a strong advocate for programs supporting equity, diversity and inclusion for all Victoria University students, and who ends his 7-year tenure on June 30, 2022.

Victoria's Opportunity Awards are funded from several sources. In 2021, thanks to a generous gift from Bader Philanthropies Inc., Ontario students from racialized and underrepresented groups were prioritized for Victoria's initial Opportunity Awards.

"The Bader Opportunity Award has been of immense support to me and has eased what has often been very anxious fears of not being able to afford bare necessities. I am forever grateful to Victoria College for providing me with this award, and I deeply hope that it will continue to support the many students at Victoria College who are in a similar position as me," said one 4th year student.
Now, thanks to extraordinary bequests totalling $2.5 million from the estates of Valerie (Husband) Brook Vic 6T1 and Allen Paul Walters [spouse of Eila (Helin) Walters Vic 6T9], two new awards have been endowed. The Valerie (Husband) Brook Opportunity Award and the Eila (Helin) and Allen Paul Walters Opportunity Award will significantly bolster the impact of the program.
"It is deeply meaningful to me to see greater access to our unique undergraduate student experience made possible thanks to the generosity of Vic graduates who recognized how formative their university experiences were in their own lives and, as a result, made these bequests" said President William Robins.

Victoria has also designated considerable internal funding to fund Opportunity Awards within the Program, and has established a new William Robins Opportunity Award to recognize President Robins's priority of inclusive education and his role in raising funds for Victoria University's student awards programs over the course of his tenure. Victoria College has an established record of prioritizing needs-based financial aid. All students who demonstrate financial need are guaranteed financial assistance.

"I hear from high school students every day who are so driven, talented and hardworking, but who face real financial obstacles to post-secondary education. I applaud Victoria University for their continued commitment and investment in giving access to students to pursue their dreams. Sustained financial commitment across all four years is pivotal to ensuring that students not only enter the university, but are retained and transition into successful alumni," said Lydia Gill, Manager, Access and Equity Recruitment, University of Toronto.

"Victoria University benefits immensely by having a student body with diverse cultural perspectives, economic backgrounds and personal experiences. I can't think of a greater honour than to have my name attached to these awards, and for Victoria University to celebrate a community that is living into its commitment to inclusion," said President William Robins.

About Victoria University in the University of Toronto

Victoria University, federated with The University of Toronto, was founded in 1836 and is one of the oldest universities in Canada. As a recognized leader in undergraduate education in the arts and sciences and in graduate education in theology, Victoria University creates an environment where students discover how to match their distinctive talents to some of the world's most pressing issues. It is home to two outstanding colleges. Victoria College—with its small class sizes, its distinctive first-year programs, and its exceptional students—is recognized as one of the most rewarding places in Canada to pursue an undergraduate education. Emmanuel College prepares students from many faiths and backgrounds for leadership roles in religious contexts. The campus is located on the east side of Queen's Park, south of Bloor Street, in Toronto.

Media Contact:
Sally Szuster, Director, Communications
Victoria University in the University of Toronto
sally.szuster@utoronto.ca
647-299-6142
Photo by Anthony Easton