NFC Doctoral Fellow Lecture | Hong Liu
Equivocal Image-writing: Reading Allegorical Fragments in the Trauerspiel
The Northrop Frye Centre is pleased to invite you to the fourth talk in our 2022-23 NFC Doctoral Fellow Lecture Series, "Equivocal Image-writing: Reading Allegorical Fragments in the Trauerspiel" with NFC Doctoral Fellow Hong Liu on Thursday, March 2, at 4:00 pm.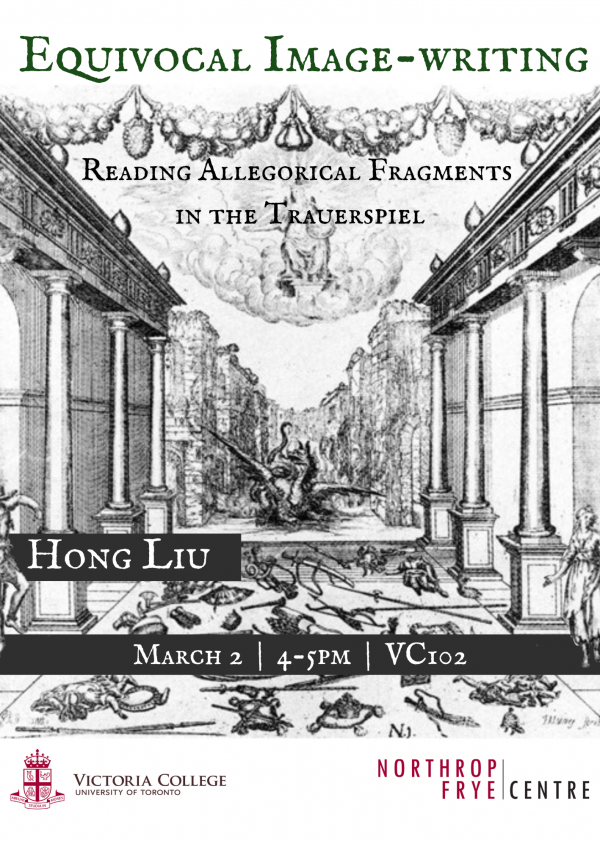 This is a hybrid event. Attendees who register for a virtual ticket will receive a Zoom link in advance of the talk.
About the talk...
In the Origin of the German Trauerspiel, Walter Benjamin theorizes Baroque Trauerspiel (mourning-play) as a theatrical form different from classical Tragedy. While tragedy dramatizes myth; Trauerspiel is concerned with the mournful expression of history through allegory. My dissertation is interested in the melancholic development of tragic theater signalled by this distinction. With Benjamin, I think about allegoresis as the companion for melancholy. While allegory as a mode of late-medieval legacy is often considered dogmatic and unfree, I consider the necessity of allegory as an aesthetic choice in times of crisis and look for conflict and struggle behind the guise of allegory's transfiguring intention. In this talk, I take up Walter Benjamin's notion of allegorical image-writing (Schriftbild) and examine how it functions to transform Trauerpsiels into plays "to be read", that is, as the dramatization of both signs and the reading of signs. I discuss Dürer's engraving Melencolia I, moments in Andreas Gryphius' Catherine of Georgia and Shakespeare's Richard II to exemplify how allegorical image-writing can give expression to a fragmented and lamenting historical consciousness, which remain relevant for later Romantic and post-dramatic tragic theaters.
About the speaker...
Hong Liu is a PhD candidate in the Centre for Comparative Literature at the University of Toronto. Her research traces the entanglement of tragic theater and history in both early-modern European theatre and the so-called post-dramatic theatre by exploring cultural-philosophical concepts including melancholy and allegory. Her work explores how tragic theatre's organization of social affects and historical consciousness continues to inform contemporary aesthetic and political discourses. Before starting her PhD study, Hong worked in theatre and publishing. She continues to work as a translator of non-fiction books about art and nature and as a volunteer for reproductive right and justice.
For more information and to register for this event, please email: nfc@utoronto.ca